Achieving distinction by connecting all young water professionals striving for personal and professional evolution
The Young Water Professionals programme offers practical and effective ways for those interested in a water sector career to follow their interests and gain experience.

Our programme presents opportunities for career development at workshops, technical events, and online initiatives. These activities help you to develop your skills and expand your network of colleagues and associates. We provide opportunities for young professionals to network in social and professional environments. Participants can present their work in a peer to peer learning environment at conferences and forums and can take advantage of a suit of initiatives that support the development of the future workforce in the water sector. Our newsletters will keep you connected with your community. Check out our

latest newsflash

and subscribe!
---
IMVELISI - Developing Enviropreneurs
IMVELISI – Developing Enviropreneurs

The 2017 Imvelisi Programme is already underway. Call for the Round 2 is Open NOW! Deadline 27 JUNE 2017.
​For information on the 2017 programme, please visit the YWP-ZA entrepreneurship page.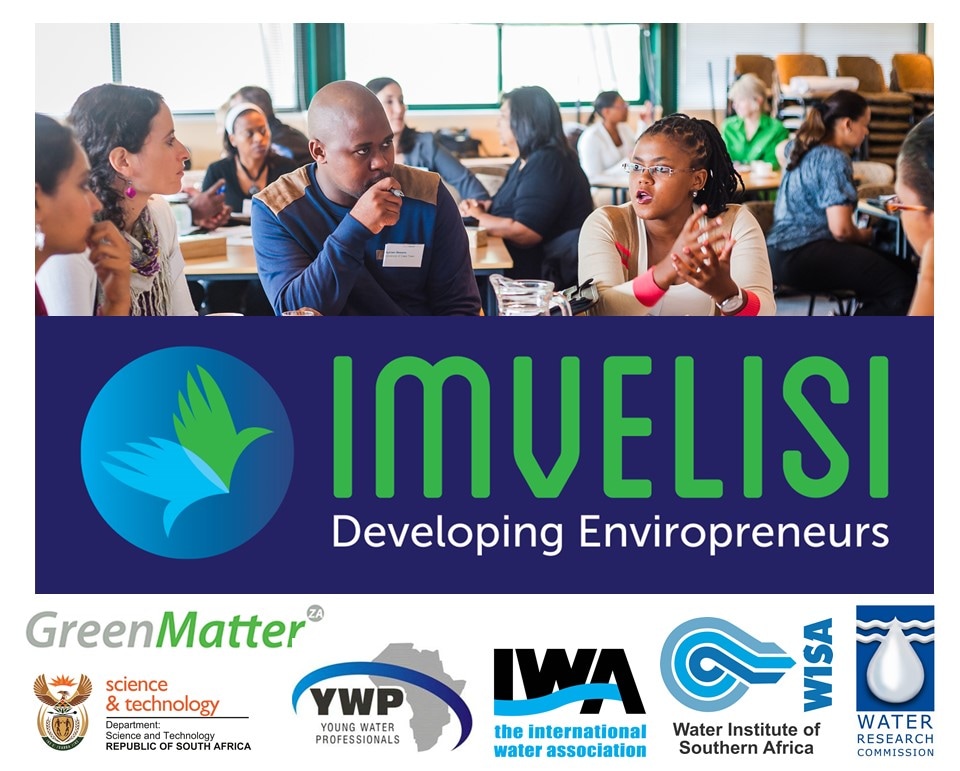 ---
8th International Young Water Professionals Conference

---
Not a YWP, but want to invest in YOUR water future! Fund a deserving delegate to attend the 8th International YWP Conference, Cape Town
​Please Click here to support this project​

From the 10th to 13th December 2017 the 8th International Young Water Professionals Conference (

#IYWPC

) will take place in Cape Town, South Africa. This conference series has become the 'must attend event' for Young Water Professionals globally as it gives the future managers of this precious resource an opportunity to learn, engage with challenges and develop the necessary skills to manage this resource effectively.

This conference is unique for three reasons:

It is the first #IYWPC hosted on the African continent. More significantly though, it is also the first time a #IYWPC will be hosted in the 'Global South' – where a large proportion of the world's population most affected by the challenges in the water sector live.
It is being hosted in Cape Town, at a time when the City is at risk of running out of water (see 1, 2, 3 etc.)
It is organised by the Young Water Professionals who are not remunerated for their services, but volunteer their time out of passion and dedication to the water sector

The

#IYWPC

- organised by International Water Association (IWA), the South African YWP's and the South African professional body, the Water Institute of Southern Africa (WISA) - aims to provide a conference and programme that is accessible and affordable platforms at a not-for-profit model. A number of the organising committee members will be hard pressed to pay the already low fees. We would like to appeal to you to help us bring them, and other deserving Young Water Professionals from South Africa, Africa and the world, to this conference.

Why should you support?

Water is life! Nothing can survive without it! Yet all too often we waste it, we abuse, we pollute it; and only when it is running out do 'we' realise its value - one day it may be too late! For this reason it is fortuitous that the conference is taking place in Cape Town in 6 months' time.

​

Why? Well Cape Town is currently "

waiting on a miracle

" as the City's water supplies get closer and closer (currently 11,4% and dropping!) to there being less than 10% of usable water left. The City is implementing "Level 4" restrictions. This limits water supplies to being used only for the necessities (no gardens and 100 litres per person per day). Suddenly social media, newspapers, and dinner conversations are filled with discussions about: How things should have been managed; Who should have managed them; When management should have begun. Cape Town is facing a potentially significant water crisis and Cape Town is not alone! Many cities, around the world, are facing water challenges - some relate to drought, others relate to flooding. The water cycle connects all people around the world (clouds and rivers don't care about borders) and is one integrated system – we can only stem this as a global community. Hindsight will, without doubt, reveal things water resource managers missed or could have done better*;

BUT a number of important questions need to be considered:

· Who will be there to learn the lessons?

· Who must learn these lessons?

· Who will even investigate and identify these lessons?

· Who will manage the next drought?

· Are the Emergency decisions that are currently being made to ensure there is some access to water supplies sustainable in the long term?

· What are the long term impacts of these decisions?

The answers to all these questions should include future water sector leaders - currently "Young Water Professionals" – otherwise we are failing to develop the next generations of leaders to tackle and solve the increasingly volatile water supply.

The theme of the 8th

#IYWPC

is 'Building Leaders & Making Impact', which aims to address many of the questions above. Through the development of an innovative and though-provoking programme that goes beyond the 'conventional conference', and looks to challenge, develop and equip Young Water Professionals so that they can address the challenges faced in the water sector. The programme includes,

inter alia

, research presentations, skills development workshops, pre-conference webinars, a selection of technical tours showcasing the history of and innovative approaches to water management in Cape Town*.

*Its important to note Cape Town is recognized internationally for its Water Demand and Water Conservation efforts which have resulted in water demand in the city remaining constant for a number of years in spite of a growing population and economic growth

How much are we aiming to raise?

We want to raise a minimum of 20 registration fees, although the more money we raise, the more YWPs can come to the conference! The more YWPs we can bring to the conference, the greater the impact! The greater impact this conference has, the more secure YOUR future water supplies will be!

So, we are asking you to support the conference through donating R100 or more. We know the economy is under pressure, we know there are many causes worth supporting but we (especially those living in drought stricken areas like Cape Town at the moment) are learning the true value of water. So maybe it's worth considering what R100 could have got you only a couple months ago...

Personal note!

We, as Chairs of the conference organizing committees, have been incredibly fortunate to be able to work with a group of inspiring future leaders in the water industry. These fellow YWPs are dedicated to improving the management of water in South Africa and the world. All have (and without doubt will continue to) volunteer with no expectations - except to make an impact! We would, personally be very sad to see any of the committee members not be able to attend due to financial resources. Beyond the Organising Committee there are a number of South African YWPs from disadvantaged backgrounds who could greatly benefit from attending this conference. We have, and continue to work hard at finding sponsorship, but will still need contributions from delegates to cover the costs. We therefore decided to ask YOU to help us ensure as many deserving YWPs (such as Organising Committee members) can attend this conference. Please help us achieve this goal!

In Summary
​

For roughly the price of a Big Mac in London; a pint in New York; two coffee's in Berlin; or 10 ITunes songs in South Africa; you could help give a deserving young water professional the chance of attending the 8th International Young Water Professionals Conference. In doing so, you will be helping to Build a future Leader and will Make an Impact. By sponsoring a young water professional you will be helping to ensure the leaders of the future (those who will manage water resources in 5, 10 or 20 years' time) are properly equipped to manage South Africa's and the world's precious water resources. This is your chance to help secure your future!

​